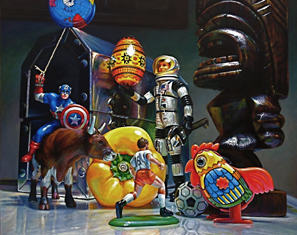 Jul 11, 2015–Feb 6, 2016
Jason Morgan is recognized throughout the Midwest and beyond as an accomplished still-life painter, portrait artist and muralist. His work is characterized as hyper-realism, drawing on influences of such Master painters as Rembrandt and Norman Rockwell. Morgan's art captures unique moments in time – from thoughtful portraits to bright and playful objects set against the muted backdrops of our everyday lives.
Opening Reception
5:30-7pm, Saturday, Jul 18, 2015
Artist Demo & Gallery Chat
2-3pm, Saturday, Sep 26, 2015 &
2-3pm, Saturday, Jan 9, 2016
(These Museum events are free to members; entry fees apply for non-members.)
See more of Jason Morgan's work here.